Welcome to Arch Group LLC! The One-stop shop for Business Technology Solutions.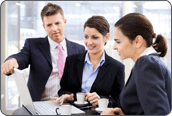 Arch Group is a Business Transformation consulting firm focused on providing partners and clients diagonally SAP Enterprise Solutions, System Integration, Consulting Services, Education, Application Development and Maintenance strategies that utilize the emerging technologies with a ethos of serving out customers' best interests.
We are leading global full-service SAP provider with diverse expertise and capabilities. We support our clients with value engineering and re-tool their enterprise initiativity, keeping business procedure in line with organization visionary and strategies to be a leader in competitive market. We provide proven enterprise system implementation methodologies, new dimension system integration and technologies solution brings grater success for our customer. Our State of Art competency center for Customer Relationship Management, Supply Chain Management, Enterprise Resource Planning, Strategic Enterprise Management, Netweaver Technologies, Business Intelligence, xApps Integration provides new generation technology solution to our clients.

Arch Group has had vast experience providing business solution to industries like Automotive, Retail, Oil and Gas, Apparel and Footwear, Utilities, and Mining, Mill, Aerospace Defense, Food and Beverage and HighTech. More than 10 years of experience in industry solution implementation, business system architecture, consulting support and education provides outstanding customer service and strong project management team.